Domainking Hosting, Promo Code, Cpanel, Review, Login
Domainking Hosting is one of the leading, reliable and affordable hosting provider in Nigeria.
They offer a wide range of web hosting services, including shared, reseller, and VPS hosting. Domainking Hosting also offers a range of domain registration and hosting plans.
Domainking Hosting
You can try out WordPress hosting, web hosting, VPS, and email hosting services provided by Domainking.
If dissatisfied, you can cancel anytime due to the 7-day money-back guarantee.
Domainking has a lower hosting price, starting at N750 per month with.com and .ng domains. All plans come with Litespeed web servers and a minimum of 4GB SSD storage.
All plans also have integration for faster loading speeds, a 99% uptime guarantee, and E-commerce software.
You don't need to worry about your site's security. Domainking has Antispam and virus protection and password protection directories.
Whether you are using a soldier, minister, or king subscription plan, the site grants you eligibility to enjoy these features:
Softaculous Installer
MariaDB
WordPress supported site
Secure FTP access
Customizable Error Pages
Webmail support
Inbuilt file manager
The amazing features, it also helps you in domain registration and transfer and offers SSL Certificates.
While companies and businesses may rely on Domainking, it also caters to the blogger's needs. The WordPress hosting plans are affordable for small enterprises, bloggers, and freelancing profiles.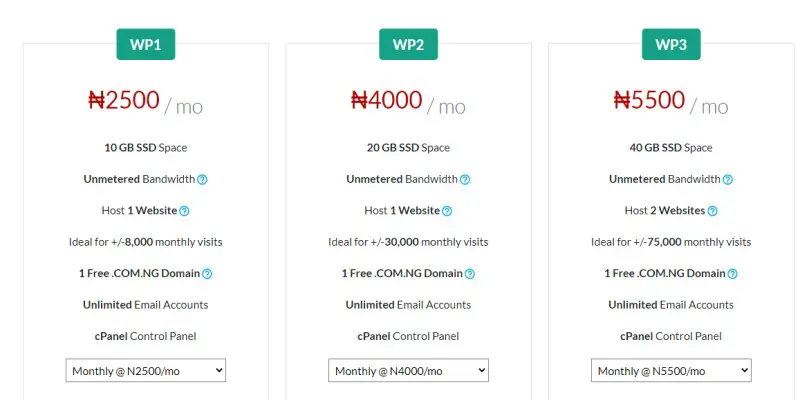 Most importantly, the site has lifetime domains on all subscription plans and a great support team in case you need help anytime.
If you are a pro and don't want to use the web builder, this site provides developer tools, such as File Manager, DNS Manager, Web statistics, and phpMyAdmin.
All web hosting covers everything, including the tools necessary to help you get started easily. These are:
MySQL
PHP
Linux
Perl
Apache
 Other hosting companies in Nigeria will require you to pay extra costs for SSL Certificates, unmetered bandwidth, and free domains.
Domainking provides these features for free on all hosting plans. Some features like free SSL Certificates boost your ranking and SEO needs on search engines.
Daily backups are automated to help you restore lost pages by getting them right from the cPanel. This feature helps you to keep your files and ensures everything is updated.
Domainking Promo code
Domainking promo codes are only valid for a month. Therefore, always visit their website to get updates on the latest offers.
Please note that the promo codes are different depending on your domain extension. Using promo codes helps you save a lot, especially during the signup process.
For the latest updates, you can always get all coupons and promo codes offered by Domainking via their promo page.
Read Also Best Hosting Companies in Nigeria
Domainking CPanel
VPS hosting for Domainking grants you access to the Web Host Manager (WHM), which allows you to create a cPanel account.  
Creating a new cPanel account on Domainking is easy since it requires you to have the basic information such as:
Username
Domain
Email
Password
It also allows you to create a customized cPanel theme and preferred language settings depending on your location and familiarity with the language.
Domainking Review
There's 24/7 customer support with a responsive team. Usually, your support ticket will be attended to in less than 10 minutes.
The flexible payment methods such as PayPal, direct bank transfers, and SSD make it convenient for clients around the globe.
Affordable domain name prices for.com domains in Nigeria are only at Domainking. Whether you want to start a personal or large business website doesn't matter.
Their friendly rates encourage personal and business growth. Although the prices seem low, the site is also one you can trust.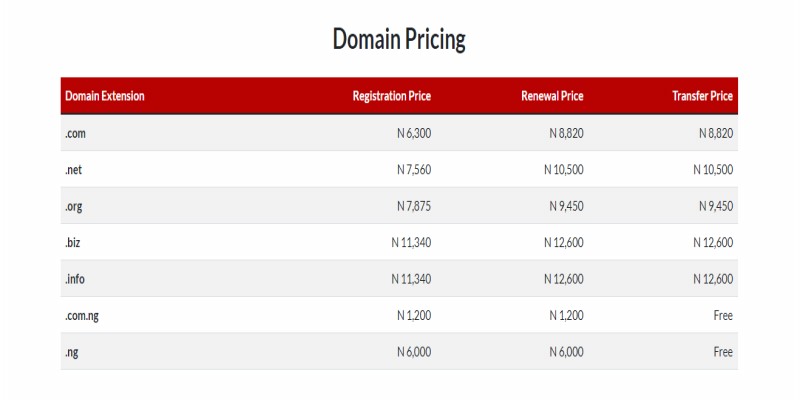 It provides a fast website even for newbies. However, if you would like your website to be faster, go for WordPress Hosting.
However, free domain registration is limited to .com and .ng domains. The support team is always offline during nonworking hours. This means that you can't get assistance at such times.
Alternatively, you can opt for an email, but this may take a while, probably getting the response the following day. Therefore, you must wait until the following day to chat with the support team online.
There's no free .com domain name. Domainking only provides free.com.ng domains, which is advantageous to websites with Nigerian audiences.
Prohibited cryptocurrency content. If you plan to run a website on crypto, Domainking is unreliable because they don't allow it.
Compared to other hosting companies, Domainking has limited storage space. However, it still has many additional features to seal the gap, making it a good site to consider.
Login
To log in to an existing account, use the email address you used while signing up, together with the password. You can easily access the login page via the website or by clicking here.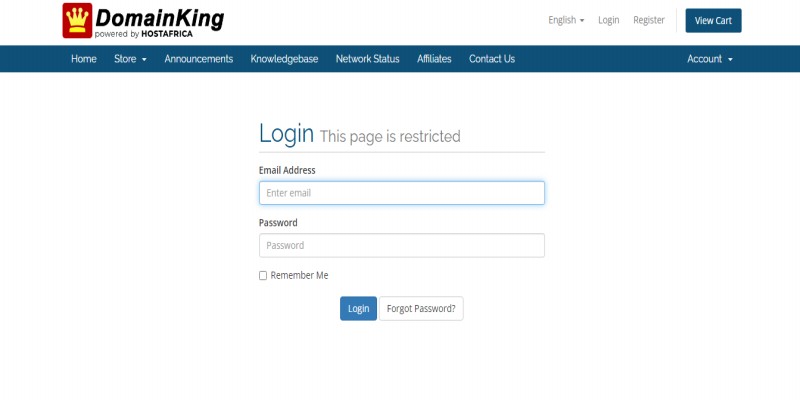 Once in a while, you may have forgotten the password, especially if you didn't save it on your PC or computer. Therefore, all you need is to remember your email address.
Click the "Forgot Password "button on the right side of the login button. This step takes you to the reset password page, where you will enter the email address to receive the link to reset the password.
Click on the link sent to your email, enter the new password and repeat the newly set password for confirmation. Congratulations! You have successfully reset the password, and you can log in again.
Conclusion
Domainking is a good hosting company and is among the cheapest in Nigeria. It is a good fit for you if you are looking for a trusted brand while experiencing a world-class hosting environment at an affordable cost.