Best Hosting Companies in Nigeria
Nigeria's hosting industry is booming, with numerous companies competing for market share.
While some individuals prefer international hosting, it may be costly. Good hosting is important to assure you of security, customer support, reliability of the site even if it is offline, and backup of your information.
Our list below outlines the best Hosting Companies in Nigeria for local hosting services at an affordable price.
Talohost
This is among Nigeria's most trusted web hosting companies because of its ease of use. Unlike other sites, Talohost does not charge extra costs for setting up an account.
Daily backups ensure your files are always available, and you can access them through the cPanel whenever you need them.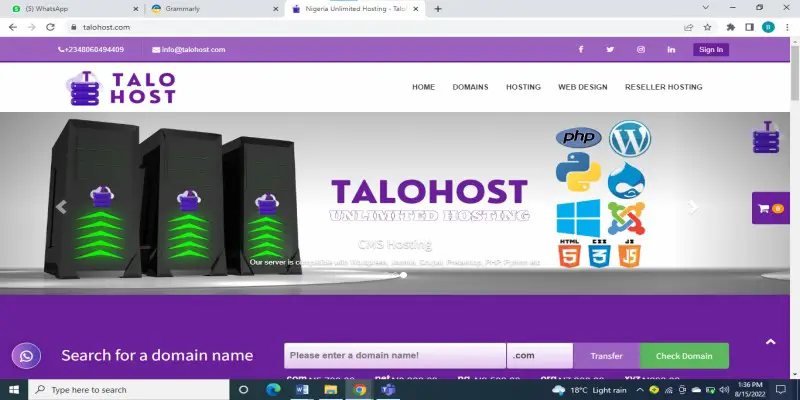 It also helps you meet all your hosting needs through cPanel hosting, WordPress hosting, reseller hosting, and email hosting.
What's more, all hosting accounts allow you to install important features of a website for faster loading and web design needs for customization. For instance, you can install
WordPress
Drupal
Magento
Joomla
The cPanel is good, giving you access and control of MySQL databases, while the network supports PHP and MySQL.
Another outstanding feature is the flexible hosting plans, which start from N500 per month to N2, 500 per month.
Talohost also provides professional web design services to help you get started. You can contact them for domain help anytime if you need any help with the domain transfer.
TrueHost
This web hosting company's dashboard is easy to use, has a real-time and responsive support, and supports WordPress hosting.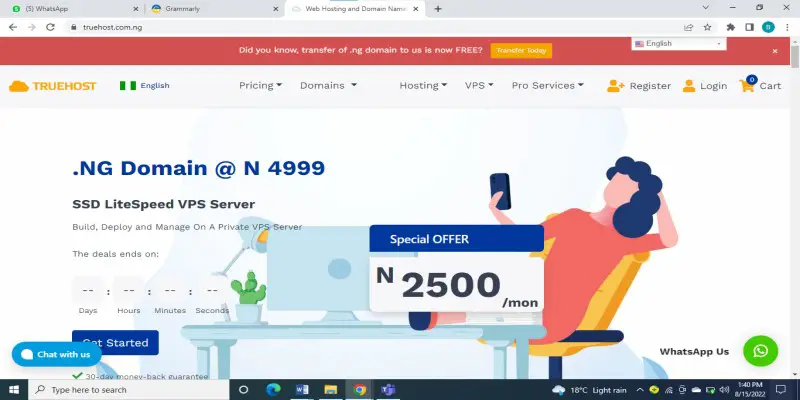 If you are doubting, Truehost is risk-free. There's always a 30-day money-back guarantee for new users. Therefore, if dissatisfied, you can try their services and still have your money back.
It specializes in web hosting, email hosting, Windows hosting, cloud hosting, and reseller hosting. All web hosting plans at Truehost come with:
Unlimited email accounts
Free SSL Certificates
Unlimited FTP accounts
Unlimited databases
Free Softaculous Installer
Latest PHP, Perl, and MySQL Versions
Besides offering different domains, it has additional services such as domain search and bulk domain search.
Still, if you are in business, you can request domain transfer or use their Whois Lookup tool to check owners of various domain names, probably in your niche.
Smartweb Ng
These guys have been in the hosting niche since 2004 while still offering exemplary services in cloud hosting, VPS hosting, WordPress hosting, reseller hosting, email hosting, dedicated servers, and Windows hosting.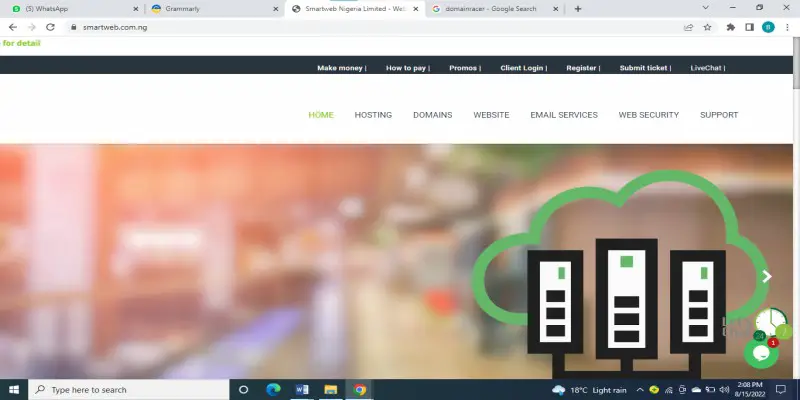 Their domain services include:
Domain Registration
Domain transfer
Reseller domains
Premium domains
If you are interested in having a smart business investment, direct traffic, better branding and better ranking on search engines, consider using a premium domain.
Smartweb ensures web security using SiteLock and CodeGuard for data protection against illegal access.
Additionally, it offers web design services for newbies but also has a website builder for web experts who like handling tasks on their own.
Business owners can always use email services, regardless of the business size. Business email and enterprise email will suite their needs.
However, Smartweb steps further by having a Google Suite, which provides apps for business websites.
Padyhost
Padyhost also deals with shared hosting, reseller hosting, cloud hosting, VPS hosting, and dedicated hosting, similar to other web hosting companies in Nigeria.
However, it is among the few sites that will give you a free domain, provided you order a Swift or Storm server plan.
Here's why you would choose Padyhost for your web hosting needs:
Safe and secured
Dedicated support
Offers various domains
PHP Selector
LiteSpeed servers
The company is also risk-free as it provides a 30-day money-back guarantee. An additional feature of this company is the Patchman Killer for data processing and protection.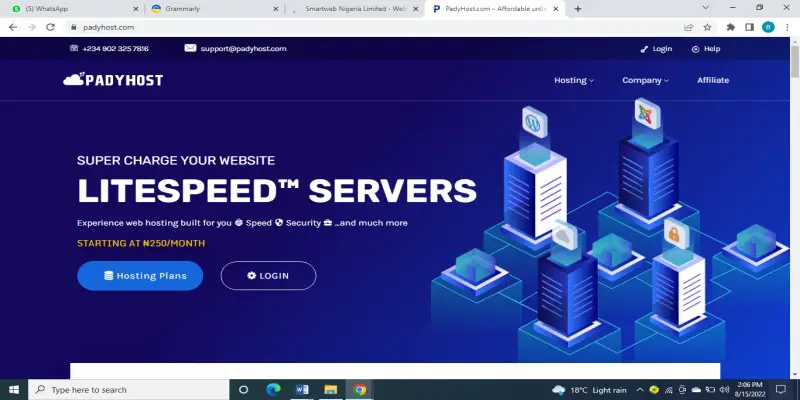 The 99% uptime guarantee ensures your site is always live and loads at high speeds for optimal performance.
DomainRacer
DomainRacer offers Linux hosting, LMS hosting, VPS hosting, reseller hosting, and SSD hosting. Besides the normal VPS hosting, DomainRacer adds KVM and Forex hosting.
It also allows you to enjoy the cloud-based infrastructure with flexible hosting plans, which you can pay through various forms of payment in different currencies.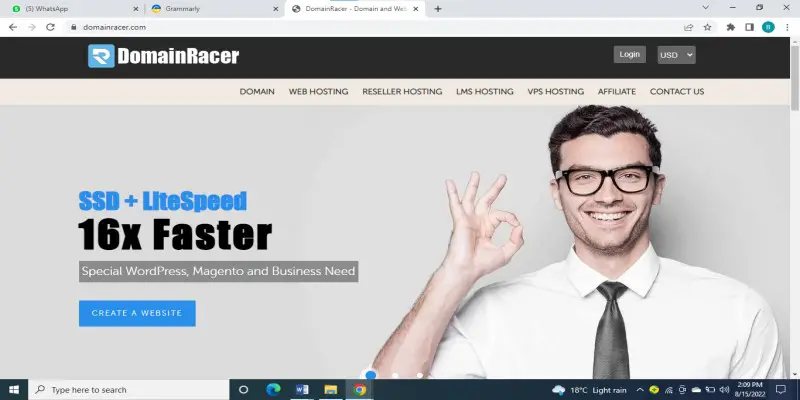 The VPS hosting comes with many advantageous features like:
DDR4-RAM
SSD storage
Fast connectivity
Reliable security
However, there's no money-back refund for all VPS hosting plans. You can start with a web hosting plan at $0.99 per month.
Although the pricing is low, you can still access the most important web hosting tools like the cPanel, SSL certificate, LiteSpeed, and SEO tools.
The reseller hosting is great since it offers to help you save a great amount of money. It also comes with a Softaculous Installer and Immunify cloud tool.
The free WHMCS, Jet backup, reseller tools, and unlimited cPanel accounts are a great way to use the reseller hosting plan.
Worried about loading speeds and the security of your website? DomainRacer has 99% uptime and Modsecurity to maintain data privacy as you work online.
Read Also An Exclusive Peek at Namecheap Hosting Review: The Good and the Bad
Hostbeak
If you are looking for a cheaper web hosting company in Nigeria, Hostbeak helps you to build a website and host it for as little as N300 per month.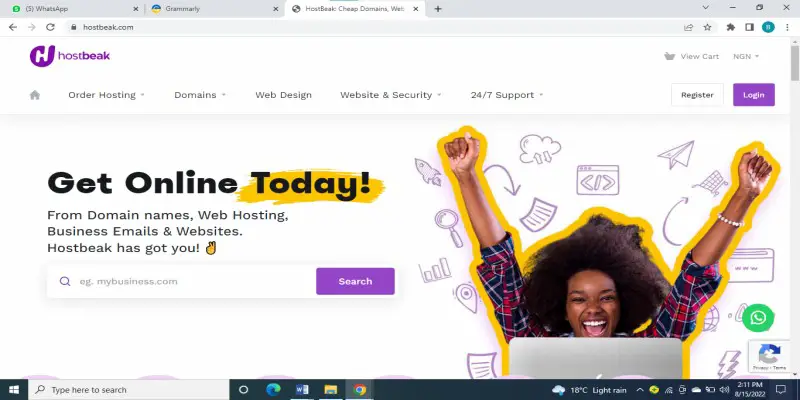 You can start a website that loads faster with WordPress hosting at N2000 per month. Your security and functionality of the website are guaranteed by the provision of:
Free WordPress tools
Global CDN
Unlimited MySQL databases
Malware Scanners
Optimization Plugins
Although this site is limited to WordPress hosting and Web hosting, it has reliable customer support, 99% uptime, and an app suite to help install productivity and business apps.
Frequent website backups protect your site against data loss, malware attacks, and illegal data access.
Conclusion
Always consider the web hosting company's features, uptime, customer reviews, data protection, and the hosting plan you need for your website. However, WordPress hosting loads faster than other hosting plans. You can choose any company from our list to get started.