Cheap Web Hosting Companies in Nigeria
When it comes to choosing a web hosting company, it's important to find one that's affordable and provides good service. These companies provide web hosting plans that are ideal for small businesses and personal bloggers. In this article, we'll list some of the best cheap web hosting companies in Nigeria.
Afeeshost
This is among the cheapest web hosting companies in Nigeria and offers reseller hosting, domain hosting, VPS hosting, and dedicated server hosting.
 Afeeshost plans range from N240 to N2,300, and you can choose the appropriate plan based on your website preferences.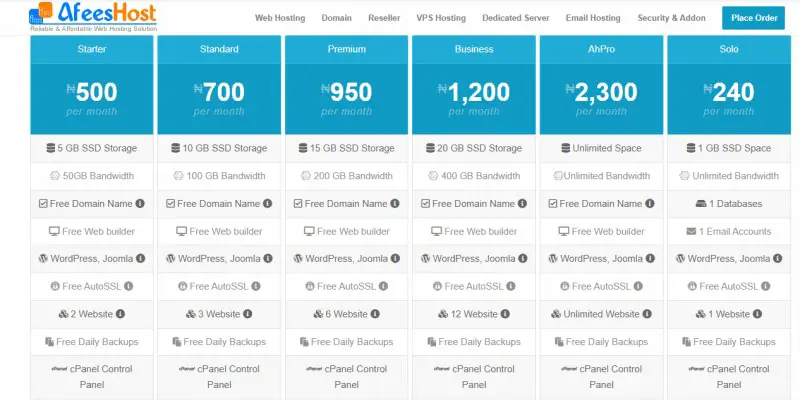 All web hosting plans come with 100% SSD storage, an easy-to-use control panel, daily and weekly backups, and unlimited email accounts.
There are many reasons to choose Afeeshost over other web hosting companies in Nigeria because of its great email features like:
Webmail features
Unlimited email forwarding
Unlimited email autoresponders
Database features are also available for freelancers and small, medium, and large-sized businesses that trust Afeeshost. MySQL and PHP Myadmin are compatible with all operating systems.
Hostnownow
This company not only offers cheap web hosting services but also has an exceptional support team, a 99% uptime guarantee, and scalability to fit your web hosting needs without straining your budget.
Whether you want domain transfer, reseller or registration, they got you covered. In addition, you can easily get hosting services such as AWS, cloud hosting, reseller, and shared cPanel hosting.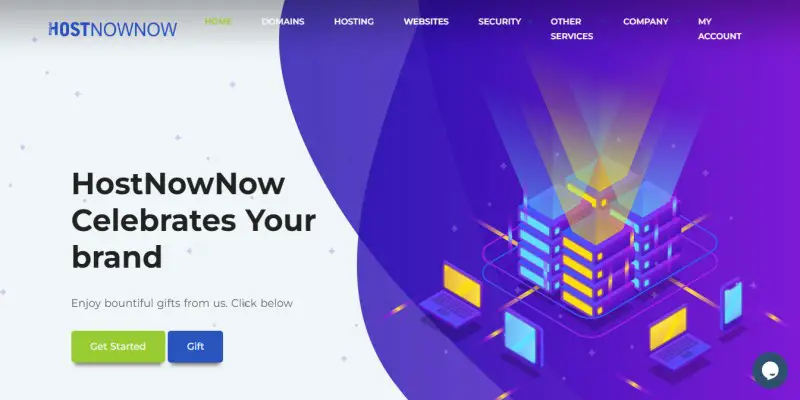 Hostnownow guarantees you the security of the website using the latest software like
There are different packages, beginning from N700 per month. Still, there are higher packages for website builders.
Netlight
It is among the cheapest and most preferred by freelancers and small companies. The lowest plan starts from N200 per month, affordable to any website owner.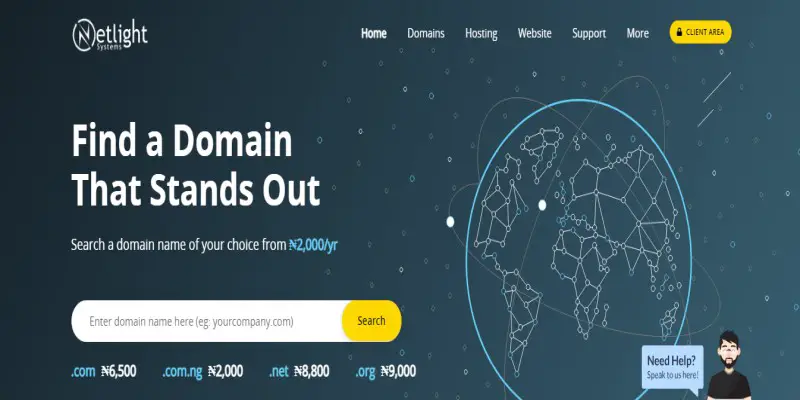 However, you will benefit from the following features of the cheap web hosting subscription plan.
cPanel access
Free SSL certificate
MySQL database
WordPress supported site
PHP & Premium support
You can start with cheap web hosting and upgrade to unlimited hosting. You will then gain access to extra features like unlimited bandwidth, unlimited emails, unlimited disk space, and unlimited subdomains.
Domainking
It is probably the cheapest web hosting company in Nigeria yet provides outstanding services across the continent. It extensively deals with different types of hosting to meet your needs. Let's have a look:
Reseller hosting helps you to start your own business by creating domains and subdomains. WordPress hosting is also available for bloggers. It is the fastest hosting you can get on Domainking.
Managed VPS hosting helps you to manage your website on cloud VPS servers. It also comes with a cPanel which is easy to use.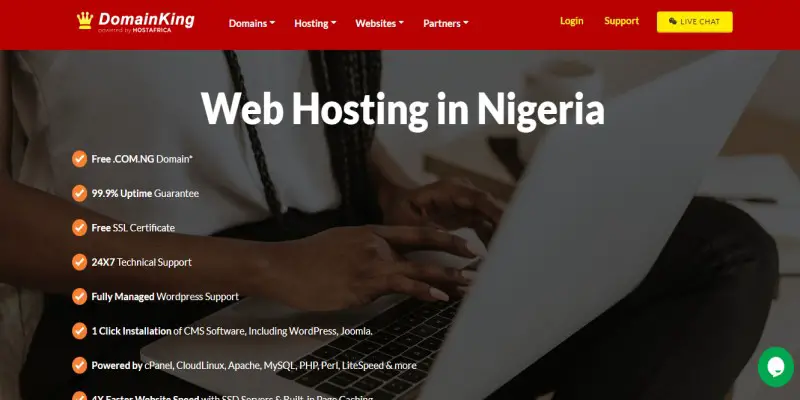 If you run a business but would like to manage it on a web hosting company at a lower cost, Domainking has a business email hosting plan.
The plan provides premium space for holding your emails, greatly enhancing service delivery in the marketplace.
Here are the prices of various hosting services that you may get from Domainking at an affordable cost.:
Web hosting starts at N750 per month
WordPress hosting starts at N2500 per month
VPS hosting starts at N29,798 per month
Reseller hosting starts at N29,999 per month
Email hosting starts at $12 per annum
Do the prices still seem to be higher? Take advantage of the promo codes to get great discounts. Alternatively, you can use the affiliate program to pay less as you earn from the company through referrals.
Globalhosting247.com
These are among the web hosting gurus and have been in business since 2012. The hosting packages start from N362.5 per month.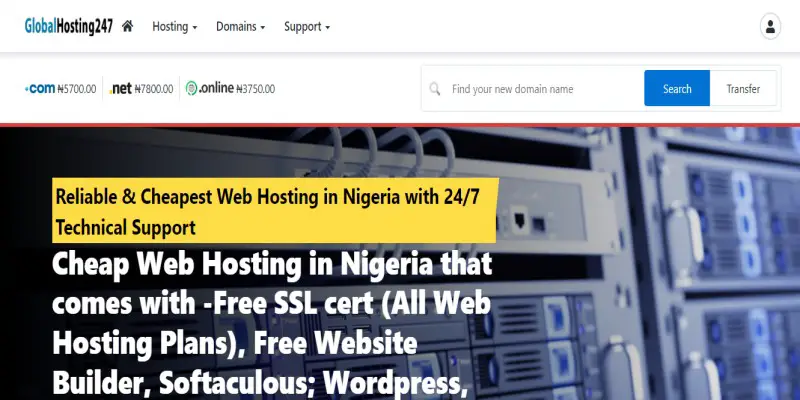 You also benefit from a free website builder, free SSL certificate, Softaculous Installer, and WordPress-supported sites.
Globalhosting247.com provides various domains, each with a different plan. Each plan also has exclusive features like:
1 GB disk space (minimum)
Unlimited email accounts
10 GB bandwidth (minimum)
Unlimited FTP accounts
Free web migration on request
Unlimited Subdomains
370+ scripts for CMS installation
Unlimited email accounts
Most plans are billed after three years, but you can choose a monthly subscription as you upgrade to higher plans and bill at your convenience.
Another reason to choose this company over others is the presence of the latest cPanel, Cron Job Scheduling and databases, and unlimited email features.
The affordable domain registration plans are encouraging without compromising on service delivery. You can also explore the domain transfer rates from the site to consider if you can utilize their services.
Read Also Best Hosting Companies in Nigeria
Tfhost
Arguably, this is among the cheapest, if not the cheapest, web hosting companies in Nigeria. Starting at N1,200 per annum for domains, you may want to try it out. However, let's explore it a bit more.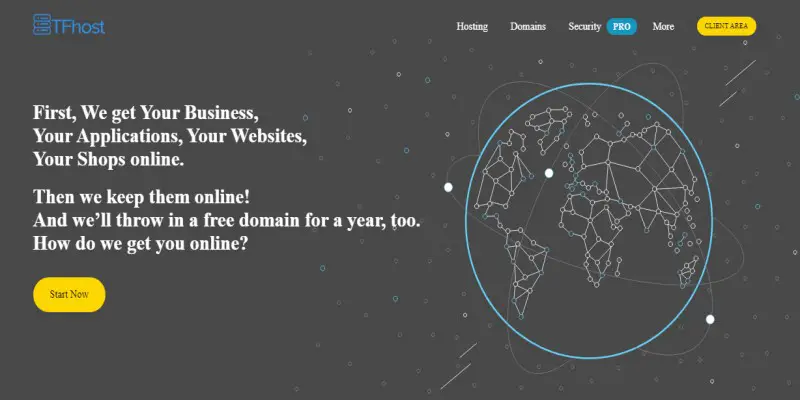 The company provides shared hosting, VPS hosting, dedicated hosting, WordPress hosting, Reseller hosting, and email hosting.
While the deal may sound so good, it is important to note that most services considered free on other sites will cost you.
Shared hosting starts at N3,000 per year.
VPS hosting starts at N10,800 per month
Email hosting starts at N3,000 per annum
Dedicated hosting starts at N42,840 per year
Reseller domains vary according to the subscription plans
Domain registration will cost you N4,700 for popular types such as .com domains, while others such as. name .ng is cheaper at N400.
Still, you can request for domain transfer at an affordable price. However, the amount will depend on your domain extension.
Tfhost further enhances your website security by using SSL Certificates and SiteLock. Generally speaking, this is the best company to start with if you are new to hosting.
It will bring your website to life and make it visible on the internet at a relatively low cost before you opt for other web hosting companies.
Conclusion
Starting on a cheap web hosting company is vital if you are a freelance or a small business owner. Our list can help you select the best site according to your budget. If contented with any of these companies, sign up and get started.