The Best Money Market Funds in Kenya
Money market funds are among the best investments in Kenya. Their high-interest rates, low volatility, and greater liquidity make them less susceptible to fluctuation and reliable sources of emergency funds.
These are the best money market funds in Kenya, and you may start investing with a minimal amount according to their requirements.
Cytonn Money Market Fund (CMMF)
Cytonn is the best-performing money market fund with high-interest rates of 10% per annum. Unlike other market funds, you can start with a minimum of Ksh 100 for an investment and top up at your convenient time.
You can read our previous post on how to top up your Cytonn account. The method is still easy, and you can do it anytime.
Creating an account is relatively easy. You can either use a USSD code or apply for membership online. Using the Cytonn mobile app makes it even easier.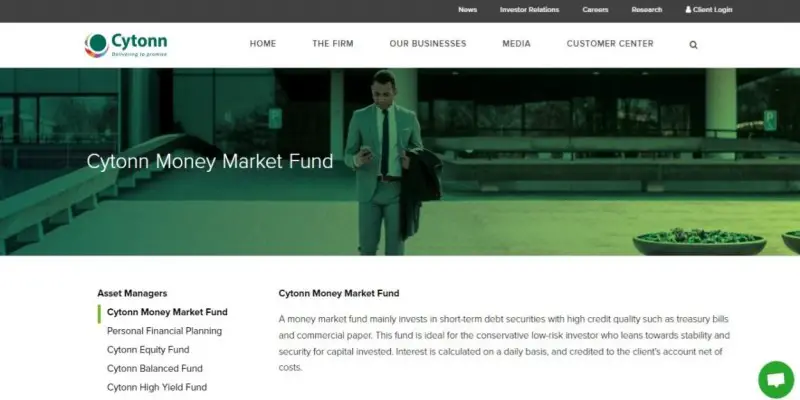 Cytonn Money Market Fund allows instant withdrawals to your Mpesa. Withdrawing more than Ksh 300,000 takes 2 to 4 working days before receiving the money in your bank account.
Cytonn also has a very supportive and understanding support team. Usually, you will get a response in less than 24 hours. You will receive a weekly update on the funds right in your email.
There's no entry fee, and Cytonn Money Market Fund is the best option if you invest for the first time.  You can use the Cytonn Money Market Fund (USD) if you live overseas or would like to make deposits in USD.
The application form is available online, and you can also sign up for CMMF to get regular updates before investing in Cytonn.
Sanlam Money Market Fund
Like Cytonn, Sanlam is another good starting point for young investors and veterans. You need a minimum of Ksh 2,500 to start investing.
Top-ups are flexible, allowing you to add at least Ksh 1,000 to your account, slightly higher than Cytonn. Top-ups are optional.
Sanlam Money Market Fund offers high liquidity and monthly payouts. In addition, the money market fund is a good source of emergency funds. If you are worried about market volatility, Sanlam MMF is the best option.
Sanlam MMF is a reputable site and a low-risk investment with a net asset value of Ksh 12.7 billion as of 31st July 2022.
Stanbic Bank is the corporate trustee and custodian of the money. If you are interested in joining the team, here's how to accomplish it.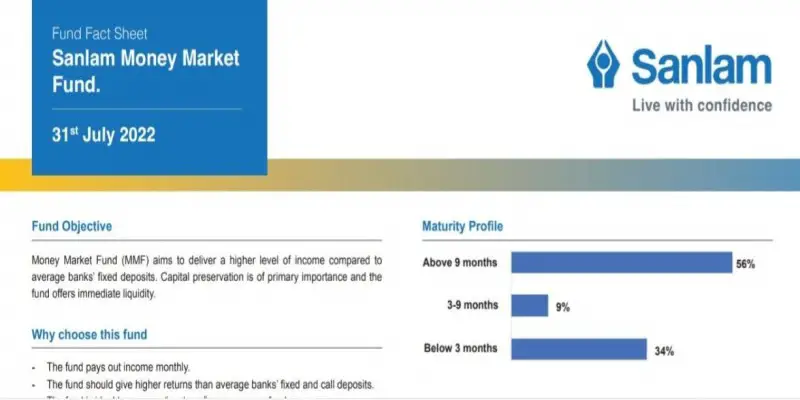 How to join Sanlam Money Market Fund
You don't need to access the physical offices since you can complete the entire process online. It is also more convenient to use this method.
Download the online application form (individual, joint, or corporate)
Sign where necessary (indicated by red asterisks)
Complete the residential details section
Fill in the risk assessment and KYC details
Review your application form and submit
You should expect a confirmation email to validate your account creation. A minimum of Ksh 2,500 will be your first investment, and also helps to activate your account.
Withdrawals take a maximum of 4 to 5 working days, while cashback is released in 30 days after making your 12th installment. You can expect an annual interest rate of 9.60%.
Zimele Money Market Fund
Zimele Money Market Fund has been around since 1998 and is worth over Ksh 1 billion. Zimele is legit and controlled by the Capital Markets Authority (CMA).
You can either join Zimele using the mobile app or the website. This private institution will also help you get started with asset management, financial services, and investments.
Although withdrawals take quite long, you can either liquidate all or part of your investments. As usual, funds will be available on your bank account within one week.
You can check out Zimele savings calculator to know how much you need, and an estimate amount to save per month.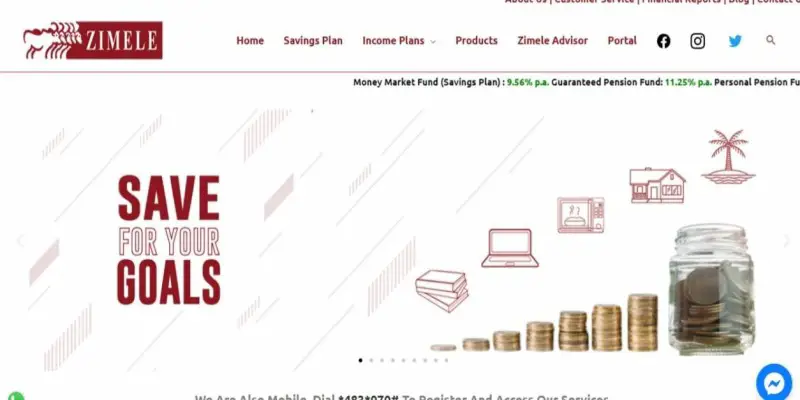 How to check Zimele Money Market Fund balance
Easily access Zimele services using the USSD code as follows: *483*070#. Your phone will display all services, including checking balances. Still, you can use the same method to:
Deposit money
Withdraw funds
Open an account
Check statements
How to deposit funds to Zimele Money Market Fund
You can either deposit using Mpesa or direct bank deposits. Here's a step-by-step guide to deposit on your account using Mpesa. Go to:
M-pesa
Lipa na Mpesa
Pay bill
Business Number: 501100
Account Number/ID Number
Amount
Enter your M-pesa pin
Confirm transaction
Hakikisha
Using the USSD code is the most convenient way for anyone using a mobile phone. However, bank accounts take a slightly different procedure.
Using Absa Bank
Account Name: Zimele Unit Trust Money Market Fund
Account number: 03077-500-6757
Using Standard Chartered Bank
Account Name: Zimele Unit Trust Money Market Fund
Account number: 0105-016-758900
You can rely on Zimele for your savings due to its interest rates of 9.56% per annum. Besides the interest being compounded quarterly, you only require a minimum top-up of Ksh 100.
For inquiries about other bank accounts, you can always visit Zimele's Contact Us page, or call 0722-207662 /  0734-207662. You can also contact Zimele on WhatsApp. Writing an email to makes it more official.
General Requirements for creating a money market fund in Kenya
Copy of your national ID
Copy of your KRA Certificate
Bank details
Passport photos
Please note that additional requirements will be needed when creating a money market fund for a joint or corporate account.
Conclusion
Money market funds are the best source of short-term investments with great returns. Besides the flexibility of operation, they are reliable and easy to start. If you want to invest profitably and embrace self sufficiency, go for a money market fund.