Making Investments in Cytonn Money Market Fund
Cytonn Investments is a company that deals with investments and real estate. It is the best-performing money market fund in Kenya, with its offices in DC Metro Area in the United States and Nairobi, Kenya. Cooperative Bank is the company's trustee, while the Kenya Commercial Bank of Kenya (KCB) is the custodian of the money.
Cytonn investments guarantee the safety of its investors' money by having high returns and interest rates of 11% p.a. The high competitive returns are less risky since it is a real estate company.
The company is also more reliable than bank accounts and government bonds. Consequently, it has attracted many young investors who have made it famous since its inception in 2014.
How to invest in Cytonn Money Market Fund
Money Market Funds are mutual funds with low risks, low returns, and short-term interest rates. They are ideal for storing cash or alternatives for stock market investments.
There are three ways of depositing in Cytonn: using the Cytonn mobile app, USSD code, or online application form.
Using the SSD
Dial *809#
Create account
Enter your full names ( First name, middle name, and last name)
Enter your National ID/ passport number
Select the source of funds ( email address and referral codes are optional)
Select the product to invest in (CMMF)
Enter the amount
Choose a payment option ( Bank or Mpesa)
Confirm your details
You will receive a confirmation message upon the successful creation of an account. In addition, also read the terms and conditions before accepting.
Online application
Ensure that you have a stable internet connection and a device with internet access. Once everything is okay, proceed as follows:
Fill in the details in the online application form
Enter the code sent to your mobile phone
Deposit a minimum of Ksh 100 using Mpesa or direct bank transfers
Click submit
You will receive an activation link on your email address immediately after successfully creating an account. Click on the activation link before its expiry within 24 hours.
Using the Cytonn App
This procedure requires you to have the app on your device. Instantly download it from Playstore if you're phone uses the Android operating system. Alternatively, you can get it on iOS App Store.
Download the app
Enter the amount you want to invest
Read terms and conditions before accepting
Enter the details for the application
Enter the verification code sent to your mobile number
Choose the payment method (Bank or Mpesa)
Unlike other Investment firms, top-ups are not mandatory in CMMF. You can always add to your investment account at your convenient time.
Withdrawing from Cytonn Investment
Your investment will grow tremendously with time. Once in a while, you will need to withdraw funds. Investors are always free to make instant and short-term withdrawals. However, you must abide by the withdrawal requirements.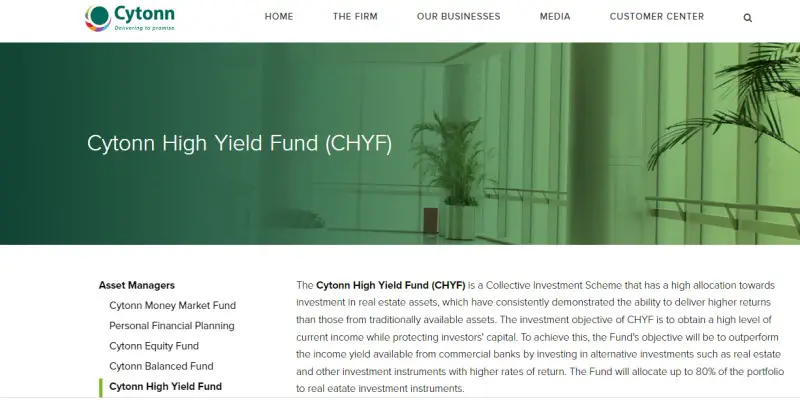 Online withdrawals of above Ksh 300,000 are deposited directly to your bank account within 2 to 4 working days. Any withdrawal below Ksh 300K will be deposited directly to your Mpesa or bank account.
Here's a step-by-step guide on how to withdraw money.
Using the USSD
Dial*809# and enter your pin
Select "Transact"
Select " Withdraw "
Select CMMF as the product
Choose where to receive the money (Mpesa or bank)
Enter the amount
Confirm the details
This method is fast, and you will receive a confirmation message within three minutes. The Mpesa message will simultaneously pop up on your screen, displaying the transaction details.
Online withdrawals
Alternatively, you can also withdraw money online if you have access to the internet. Here's how:
Visit the website https://clients.cytonn.com/
Log in and click on view CMMF Fund
Select " Sell Units "
Choose the product to withdraw
Select the account to receive money
Choose the desired number of units to withdraw
Confirm unit details
Enter the verification code sent to your email /SMS
Using the Cytonn Mobile App
The steps to use the app are almost similar to online withdrawals since both methods require an internet connection. If you don't have the app, download it to get started.
Log in and select CMMF investment.
Select "Sell Units "
Enter the number of units to withdraw
Select the account (Mpesa or bank) to receive the funds
Confirm the details
Enter the code sent to your SMS/Email
However, you will be charged Ksh 200 withdrawal fee for all manual withdrawals. Therefore, online withdrawals are the best when using Cytonn Investments.
Interest rates
The 13% interest rates are worth investing in Cytonn. Most bank accounts have lower interest rates, making this company a good investment choice.
Cytonn Investments' CMMF interest rates are not fixed. Usually, the returns fluctuate and depend on interest-bearing assets.
Risks
All businesses have investment risks, and Cytonn is no exception. Most risks arise from interest rates. Since the interest rates depend on the company's profitability, you will likely get lower interest rates when the assets decline.
Even though, Cytonn remains to be a low-risk Investment company. Your interest rates will also increase when the assets increase.
Reliability
Cytonn Investments is a reliable source of investments for adults and minors. It allows professional fund management and diversification since it is a money market fund.
Besides the potential for higher returns, there's flexibility and ease of access to money, even during emergencies.
The Capital Markets Authority guarantees safety, and verified custodians and trustees oversee funds. In simple terms, you can rely on Cytonn, even opening a money market fund for a minor.
Conclusion
Cytonn Investments is a reliable source of investments for adults and passionate young investors. The ease of opening an account, withdrawing, and free top-ups are encouraging. If you are looking for a good investment opportunity with high returns and exemplary interest rates, go for Cytonn Investments.