How To Recall An Email On Outlook
Email has now become an important mode of communication. It allows you to communicate with your friends, colleagues, and businesses.You can send email via Microsoft Outlook using a computer, a mobile app, a smartphone, or a tablet.
Keep reading to learn how to Recall an Email in Outlook on a PC or Android, as well as how to work around Outlook's limitations when it comes to recalling emails with different programmes.
Recalling email on Microsoft 365 or Microsoft Exchange
Here's how to resend an email if your business is on Microsoft Outlook:
Select the "Sent Items" folder
Double–click the message to open it
Select "File > Resend > Recall", then "Recall this message"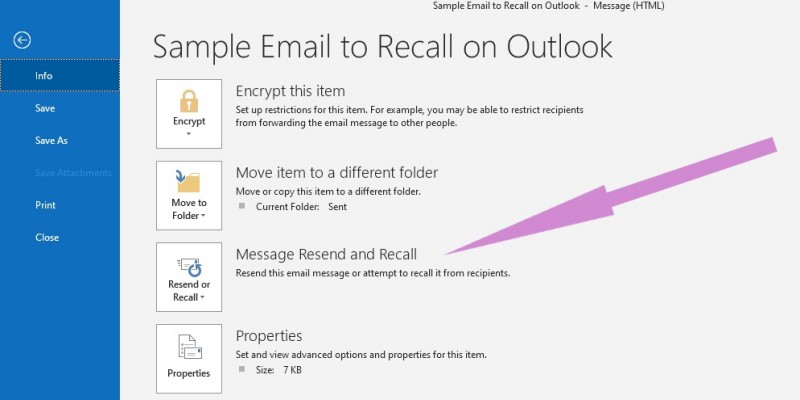 Removing or deleting the message will eliminate from the recipient's inbox if they had not read it.
On the other hand, "Delete and replace " allows you to open the message so that you can edit the text and resend it.
Usually, the new email will replace the first one. Ensure the "Tell Me" box is checked so that you receive the status of the recall as it happens.
Conditions for recalling an email on Outlook
Once in a while, the process fails because one of the requirements has not been met. It is important to note that these conditions only apply if you haven't installed other software programs to supplement your Outlook account.
Typically, the process should take about 2 minutes if you do the following:
Your recipient should be using an Outlook client, which should be running.
Ensure you are on the same exchange server with the recipient.
Your recipient's inbox should be open with your message in their unread section.
The process may fail if you are recalling the message from different institutions or organizations with dissimilar servers.
The client Outlook is the only one to help you recall the message. Another way to make it easy is ensuring that your recipient is not using Outlook on the web or the Outlook app, because it may not work.
Recalling an email on Outlook (Android version)
Recalling an email seems to be easy, but there's a catch to it, whether you are on a PC or smartphone.
It can only work for Outlook users (not other email accounts like yahoo, Hotmail, and Gmail), and you have to do it before the sender reads the message.
Good enough, you can use your Android version to recall an email. It will come in handy if you have an Outlook 2016 version that doesn't support this feature.
After typing the message, you realize that you just missed out on something important, but you don't want to send multiple emails. Right? Follow these steps and fix it quickly before your email is read.
Tap on the Outlook icon. It's usually at the top left corner of your screen.
Tap on sent from the drop-down menu that appears
Double click the email to recall and head over to the message tab
Click on Actions from the drop-down menu on the message tab, then choose Recall this message
Either choose Delete unread copies and replace with a new message to edit the email, or select Delete unread copies of this message to delete the whole email.
Confirm the tell me if recall succeeds or fails for each recipient. This will notify you of every successful recall and let you know recipients who read the email before recalling it.
Click okay
Nevertheless, you may get a fail report even after recalling the email before it was read. Occasionally, it may happen if your recipient has turned off the feature allowing senders to delete or alter the emails after they have been sent.
Still, there's an option to delay email delivery on Outlook 2010, Outlook 2019, Outlook 2016, Outlook 2013, Microsoft 365, and other versions of Outlook.
However, there are some programs that you may integrate with your Outlook to help you have authority over all emails, regardless of your recipient's disabled features. Let's check them out.
Read Also Top 10 Most Successful Businesses to Start
How to recall an email on Outlook with Virtru
Did you know that you can recall a message even after the recipient has disabled the feature to alter and delete sent emails?
Integrating Outlook and Virtru grants you full authority over all emails. This program is costly, but pays off in the long run.
Using Virtru on your Outlook account helps you to retrieve and edit emails even after they have been read. You can include it or subscribe to their plans, then use these steps to recall emails.
Click the File icon to display the Virtru on
Send the email as usual.
Head over to the sent items section of your emails
Click on the revoke message section to recall an email
If the recipient reads the email, they will be notified that it has been revoked. Even though they read if, for the second time after you have revoked the email, the notification will still appear on their screen.
This program is significant regardless of the time passed after you send the email, a server being used by the recipient, and whether your email has been read or not.
In addition, Virtru can help you prevent the recipient from forwarding the email to others.
How to recall an email on Outlook without a tab
To recall an email on Outlook without a tab, you need to:
Navigate to the File and select Account settings
Go to the email tab and zap on type options
The recall options will be available to help you unsent the email
Please ensure that it displays the "Office 365/Microsoft Exchange account" when using this alternative.
Bottom line
It is okay to recall emails on Outlook regardless of your device. Including specific programs on your Outlook may give you more authority over all emails you sent, so you might need them. However, these methods are all limited to Outlook senders and recipients.