Cost of Building Bedsitters in A 50×100
You don't have to be a professional to know how much you need to build bedsitters in a 50×100 piece of land.
But the surprising thing is that 25% of the amount you need will go to labor. Let's walk through the cost of building bedsitters in Kenya, bedsitter design plans, and how to construct bedsitters in a 50×100 piece of land in Kenya.
Cost of building bedsitters in Kenya
A 50×100 piece of land is equivalent to 1/8 of an acre but can be a good investment with bedsitters.
The cost of building bedsitters depends on many factors such as the topographical location, number of units, design, amount, and type of materials.
Additional costs may also be incurred if the land has no rightful ownership declaration, which means the owner has to purchase it.
On average, constructing a bedsitter will cost Ksh 25,000 per square meter, approximately Ksh 250,000 to Ksh 500,000 for each bedsitter.
Bedsitter design plans in Kenya
Most bedsitter designs in Kenya are almost similar. The tenant can arrange them how they like and fill them with the desired items.
Constructors, however, have specific common ways to ensure the rooms are habitable and conducive to most newly employed Kenyans, who are the anticipated customers.
It would help if you considered various factors when designing a bedsitter since they will contribute to the cost of the rooms you are constructing. Let's look at them in briefly.
A 50×100 piece of land may hold many units depending on the sizes of rooms that you want. Larger rooms mean fewer units. Alternatively, you can opt for a story building like most urban areas to have more units.
While a bedsitter is mainly a single room, ensuring that it is spacious enough is vital to serving it simultaneously as the bedroom and living room. The kitchen space is assumed to be where you will decide to locate the sink.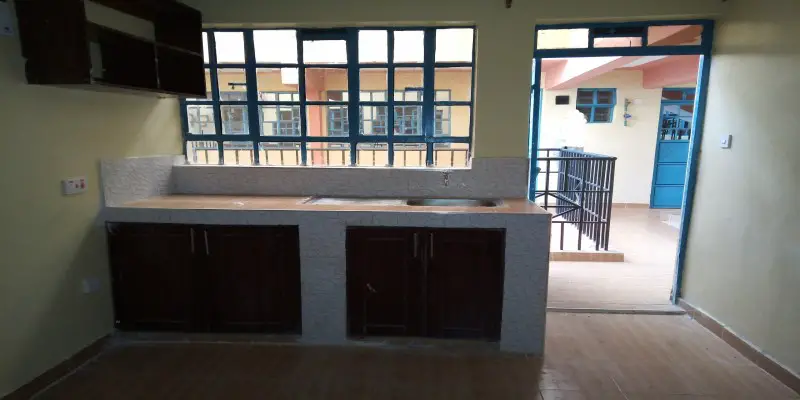 The internal and external appearance should be attractive to get the attention of tenants. For instance, windows should provide adequate ventilation and light to the house, be of the right size and be on a straight line with the floor.
The doors should be at the end and positioned on the right side, have an inner opening side, and be relative to the size of the room.
The interior and exterior design should have matching colors to give your bedsitter a good look. The paints should also match the color of the tiles and the ceiling.
Bedsitter building plans
You can produce 12 units on a 50×100 plot and decide to build bedsitters in phases. There are floor plans and entire building plans at an affordable cost to purchase if you don't have an idea where to start from.
How to construct bedsitters in a 50×100 in Kenya
You can make enough money by utilizing the available 1/8 acres piece of land. Assuming that you use the low-cost technology for design and your monthly charges are Ksh 6,000 per month.
That is, if you supply construction materials, including paying labor costs, here are three options that you may consider:
Bedsitters with six units
Arguably, you will receive Ksh 36,000 per month. Achieve this by ensuring that the floor area is 148m2.
Your estimated total construction cost will be Ksh 2M, with the scheming and detailed designs consuming Ksh 68,000 while the supervision and outline proposals amount to Ksh 48,000.
Bedsitters with nine units
Easily achieve this by making the floor area 225m2. You will receive Ksh 54,000 monthly from tenants, but your estimated total construction cost will be Ksh 3M to get the building on its feet.
The derailed scheme designs will cost roughly Ksh 105,000, whereas the supervision and the outline proposals will cost Ksh 75,000.
These are the maximum number of units you can produce on a 50×100 piece of land when constructing bedsitters, provided you maintain a floor area of 450m2.
With a rental income of Ksh 108,000, this may be the best choice as you look forward to recovering the construction cost in a short period.
However, the approximate total construction cost will be Ksh 6M. The design will require Ksh 210,000 as the outline proposal and supervision consume Ksh 150,000.
Please note that the cost mentioned above is an average, and it may be lower or higher depending on your contractor, location, and other factors.
Final word
The cost of building bedsitters in a 50×100 in Kenya varies. Considering the bedsitter design and building plans can help you construct a bedsitter that will attract tenants and bring huge returns for your investments. Also, ensure that you follow the National Construction Authority guidelines before beginning any construction.
Scroll down through our FAQs to learn more about bedsitters for tenants and constructors.
FAQ's
What is the standard size of a bedsitter?
The government provides no standard measurements, but a bedsitter is approximately 3 meters by 5 meters, inclusive of the kitchen area and living room areas.
What should be in a bedsitter?
Although the bedsitter has little space, it should have necessary appliances in the kitchen area, a simple bed, sofa, coffee table, dressing table, and a TV stand.
What are the bedsitter measurements?
Bedsitter measurements will vary according to the sizes of the rooms. The smallest bedsitter will be 7 feet by 10 feet, while large ones will be more spacious depending on the constructor's choice, but with an allowance for movement within the room.